From the sea right to your dish, sea salt is a natural resource for various minerals – including zinc, iron, and potassium. A granule or two of sea salt is an excellent way to add flavor to veggies, eggs, potatoes, or meat, keeping it spiced and healthy!
A Visit To The Levant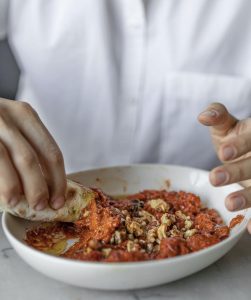 This week's Levantine region food highlight is coming together with our love for sea salt to bring you the famous Middle-Eastern dish Muhammara, meaning quite literally "the turning of the color red." It is traditionally made from fresh red peppers, cooked, and then ground into a paste with olive oil, garlic, and a modern twist of adding sea salt to enhance it. Muhammara is a typical Mezzah dish, a light and fulfilling dip rooted back to the people of Lebanon and enjoyed in all Middle Eastern cuisines. The lemon is for acidity, walnuts are for bite, cumin to add smokiness, Aleppo chili flakes for heat, pomegranate molasses for sweetness and depth of flavor, bread crumbs for texture, olive oil for body, and sea salt for overall flavor. Sea salt is also great when used with beef, whether minced, cubed, or grounded. Using sea salt with such a dish will ignite all the different tastes of herbs, spices, and vegetables. Recreating this dish with sea salt adds a sparkle to the outcome.
Ingredients:
3 large red bell peppers
1 cup plus 1 tablespoon walnuts, divided
3 tablespoons pomegranate molasses, additional for garnish
2 tablespoons olive oil
3 cloves garlic, peeled
1 tablespoon freshly-squeezed lemon juice
1 teaspoon ground cumin
1 teaspoon kosher salt
1 teaspoon Aleppo pepper flakes (or other red pepper flakes)
½ cup bread crumbs
Directions:
1. Preheat the oven and place the whole red peppers to roast for 15 minutes, or until charred, making sure to flip them over halfway.
2. While the peppers are in the oven, toast the walnuts in a small skillet over medium-low heat for 10 minutes.
3. Remove the peppers from the over and place them into a Tupperware for 10 minutes. This traps the steam, loosens the skin, and makes the peeling process easier!
4. While waiting for the peppers to cool, in a food processor, add the walnuts, pomegranate molasses, olive oil, garlic, lemon juice, cumin, pepper, and sumac salt (or even the Mint Rosemary or Lemon-Garlic salt!)
5. Once the peppers are cool, remove the stem and seeds from each pepper, peel and discard the skin, keeping the flesh only.
6. Add the peppers to the food processor and mix together until smooth! Add the bread crumbs and pulse until combined for that extra oomph! If the mixture is too loose, add more breadcrumbs. If it is too thick, add more olive oil and lemon juice. For taste, add more sumac salt if needed!
7. Serve the Muhammara in a serving bowl, drizzling it with pomegranate molasses, fresh rosemary, pomegranate seeds, and chopped walnuts.
Check out our Muhammara recipe in action on our Instagram page!
The Story of Sea Salt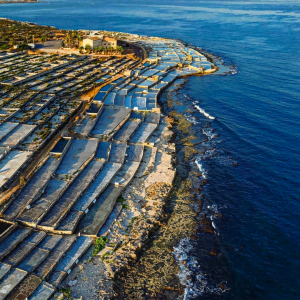 Sea salt is produced by the evaporation of seawater; not only is it used in seasoning and food, but it is also added to cosmetic products for multiple health reasons. It contains sodium, an essential nutrient that helps maintain your blood pressure and supporting nutrients. Table salt UAE is stripped of its minerals and loses its benefit when processed. That's why bringing sea salt into your diet will help eliminate bloat and water retention since it serves as a balance to the fluids in your body. Drop your regular salt shaker, and welcome pure sea salt to your home!
Notch Your Food Up with Sea Salt!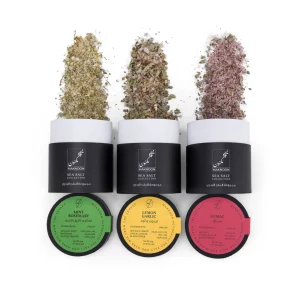 Make sure to use pure and clean sea salt, and when it comes to texture, you know best! By offering various sea salt Dubai seasonings at Maknoon, we ensure you can jazz up any dish and elevate its taste. Sea salt can be infused with nearly any herb to create a new flavor. For lovers of pink Himalayan salt, our herbal sea salt will add a whole new level of color and flavor to your kitchen. While we agree that pink salt can be funky, our Mint Rosemary salt, Garlic Lemon salt, and Sumac salt offer a blast of flavor that is simply unsurpassed, with much more coming your way with many creative uses!