The word Maknoon means 'cherished' or 'well preserved'. We at Maknoon strive to make all our luxury corporate gifts reflect the passion and care that goes into them.
Reach out and learn more about what we do by filling out our online contact form. Whether you need help picking out your next olive oil or selecting a corporate gift for your business, we are happy to assist you.
Gift with Class. Gift with Maknoon.
Few things radiate class and luxury as simply and subtly as Maknoon. From its finely crafted bottle to its wonderfully vibrant taste, every drop of our olive oil serves the singular purpose of making a valuable client feel so.
Maknoon condenses the best of our company's visions, philosophies, and passion into every corporate bottle. When choosing business gifts for clients, you can never go wrong with choosing a gift filled to the brim with the fine luxury of Maknoon.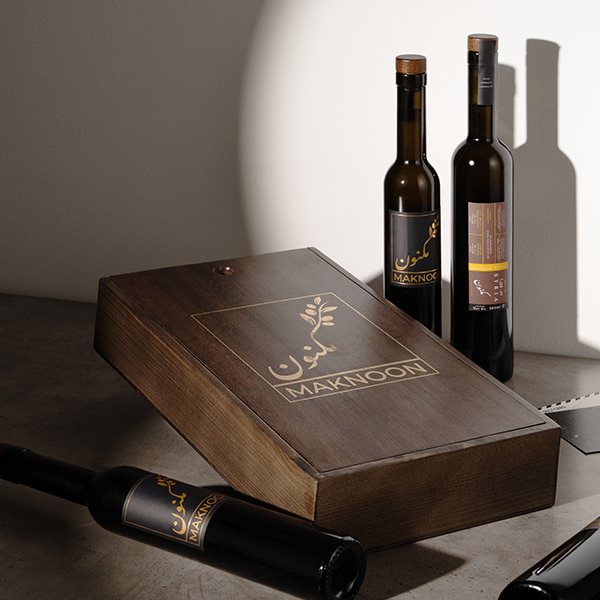 Culinary perfection in every bottle.
Even the pickiest of eaters that have experienced our culinary magnum opus have a lot of good to say about Maknoon. With a rich taste that appeals to even those with the most refined palates and an undeniable savor that contains all our passion in our craft, we deliver a tinge of perfection in every drop.
"The way to a client's heart is through their stomach," as the popular saying goes! As such, look no further than Maknoon when choosing the right business gifts for clients and find your way to your client's hearts with our innovative luxury gifts!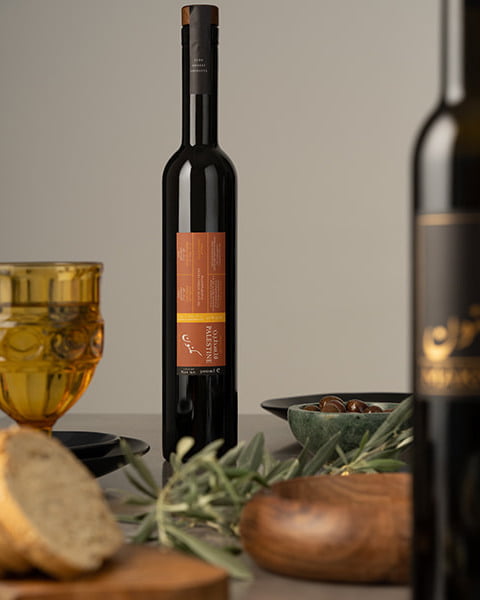 Functional gifts are the best gifts!
It's easy to get caught up in choosing luxury corporate gifts and end up with a gift that's all style but no substance. Olive oil is a different story. Whether you use it to garnish your salads or cook your pasta, there's always a function for olive oil in every household, kitchen, and family.
Let your clients experience a custom gift box that perfectly balances form and function with our corporate bottles of olive oil. Choosing the perfect business gifts for clients starts here with Maknoon.
A harmony of perfection internally, a piece of art externally
All of our innovative luxury gifts appeal not just to the sense of taste and smell but also to sense of sight and touch. All of our corporate bottles are carefully crafted by our artisans to bring you an elegant piece of art that speaks for itself the moment you take it out of the box.
From the finely crafted packaging to the deliberately designed dark bottle exterior, every piece of our olive oil bottles radiates with style and aesthetic brilliance. We do not just craft the perfect business gifts for clients, we also craft an artistic experience unlike any other.
I got my order of Lebanese virgin oil today and was very impressed with the packaging & freshness as well as the quality. The olive oil taste was soooo good, it added a very delicious taste to my dishes!! Looking forward to being a REGULAR ordering customer from now on!!

Nisrine

Hi, I have placed my order last week of the olive oil collection (Lebanon, Syria & Palestine Oil), and all I want to say is how much I love your products so yummy and makes me feel good that I am having a premium quality of olive oil. Thank you!

Isaac

I found this by far the best and most valuable business gift to order for a special client. Perfect packaging, as expected. Couldn't be happier with any other choice.

Khaled
Olive oil is a highly symbolic and historic gift
Symbolically, giving olive oil as a gift means a giving of great prosperity. As such, there are few better ways to celebrate and propagate the growth of businesses and professional relationships than with a gift of our artisan olive oils. On top of that, olive oil is also a healthy addition to any dish.
Giving the gift of great prosperity as well as good health is also a surefire way to improve any ties – professional or not – you have with anyone! The perfect business gifts for clients are few and far in between and Maknoon takes pride in being one.
Contact Us To Get The Best Business Gifts For Clients From Maknoon
Olive oil is a brilliant addition to any kitchen. But Maknoon is more than just any olive oil, it is a culmination of millennia of history, culture, and heritage. It contains the essence of the passionate people who have helped bring it here. It is a vessel for us to bring our love of the craft to you. Give your clients the gift that they deserve with Maknoon.
Our team at Maknoon is unique in that our passion for our craft is unparalleled.
Contact us today and we'll get back to you as quickly as we can.